Dates:  Saturday July 15th with Sunday the 16th the date if Saturday is postponed.

Registration Fee is $70.00 per Boat to Enter with Deadline of Tuesday 7/11 *
Please fill out the form below.  When you click the "Submit Form" button you will automatically be taken to the Paypal Page where you can pay your Tournament Entry fee using our Secure Paypal Payment Service.
*Please remember to sign up for the LOTSA Picnic if you will be joining us for a meal. You will receive tickets for the number of meals you ask for. These tickets are the only way you will receive a meal.
Registration Form (click to open)
LOTSA Tournament Winner Team Got My MoJo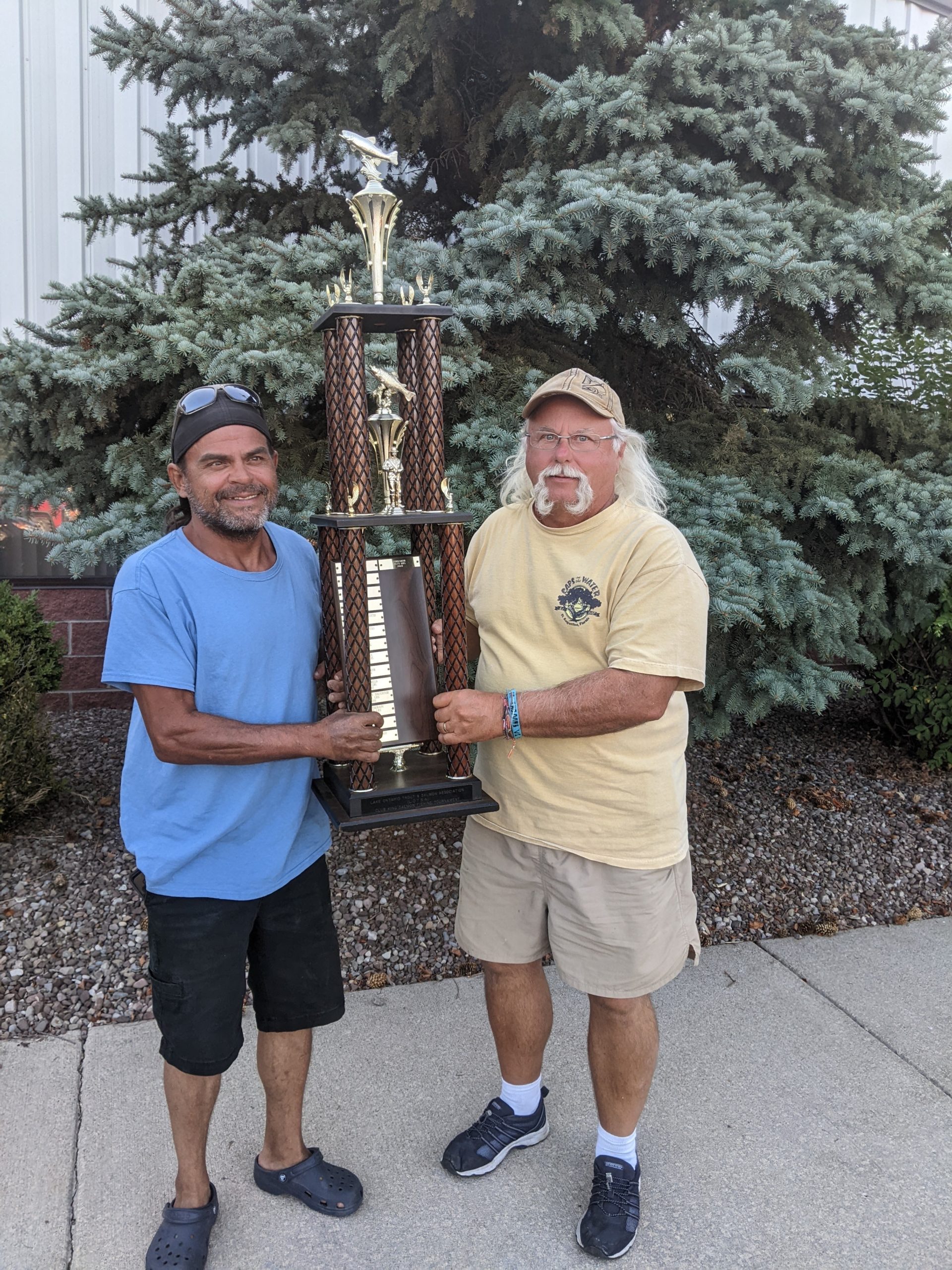 Tournament Format
LOTSA Members Only. Heaviest Salmon wins.
Tournament Date
Saturday July 15, 2023
Weigh In Location: Olcott Fire hall, 1691 Lockport-Olcott road, Burt NY 14028
Alternative date July 16, 2023
Weigh in location: Town of Newfane Marina Pavilion in case the 7/15/2023 Tournament was postponed
Entry Fee
$70 per boat – this covers your entry fee and the picnic. Entries capped at 60 boats.
Payout & Prizes
Top 6 places will pay (based on minimum of 40 boats entered). 
1st – $800, 2nd – $500
3rd – $300, 4th – $200
5th – $100, 6th – $100
Based on the final number of entries, additional payouts will be adjusted accordingly.
Past Tournament Winners
2022 Tournament Results
1st Place – Team Got My MoJo 24.03 lbs
2nd Place – Yuppy Guppy 23.71 lbs
3rd Place – Playing Hookey 21.98 lbs
4th Place – Redemption 21.26 lbs
2021 Tournament Results
1st Place – STREAKER. 25.75 lbs
2nd Place – Gypsy. 23.96 lbs
3rd Place – Pole-Lock. 23.18 lbs
4th Place – Triple J. 23.10 lbs
2020 Tournament Results
1st Place – Totally Hooked, 25.46 lbs
2nd Place – Redemption, 24.85 lbs
3rd Place – Pain Killer, 24.84 lbs
4th Place – Salmonella, 23.70 lbs
2019 Tournament Results
1st Place – Salmonella, 27.41 lbs
2nd Place – Streaker, 25.94lbs
3rd Place – Mean Machine, 25.73 lbs
4th Place – Kelly's Kings, 24.41 lbs
2018 Tournament Results
1st Place – Reel Therapy, 26.07 lbs
2nd Place – Black Jaw, 24.87lbs
3rd Place – Luck E Span, 23.16 lbs
4th Place – Mirage, 22.80 lbs
2017 Tournament Results
1st Place – Diversion II, 26.04 lbs
2nd Place – Reel Nauti, 24.49 lbs
3rd Place – Team Leviathan, 24.43 lbs
2016 Tournament Results
1st Place – Fisherman's Daughter, 26.99 lbs
2nd Place – Playing Hookey, 22.45 lbs
3rd Place – Summer School, 21.15 lbs
4th Place – Mean Machine, 20.89 lbs
5th Place – Fish Tank, 19.93 lbs
6th Place – Knot Rite – 18.79 lbs