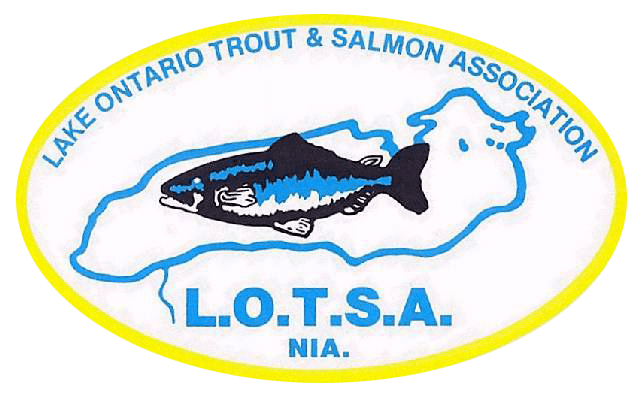 Lake Ontario Trout & Salmon Association (LOTSA)
LOTSA is a Not-For-Profit group of mainly weekend recreational fishermen who are dedicated to the enhancement and promotion of the Lake Ontario Sport-Fishery. LOTSA places a heavy emphasis on Education including recruiting new Anglers to the Lake Ontario Fishery and providing continual Education opportunities for the experienced Anglers.
LOTSA meetings are held on the 2nd Thursday of certain months (see events below) at 7:00 p.m. at the Cornell Cooperative Extension, 4487 Lake Ave. (Route 78, two miles north of Lockport), Lockport, NY and usually feature an informational seminar on a particular topic relating to the Lake Ontario fishery. Each meeting also features a sharing of information on the current fishing conditions.  Get Directions >>
Latest Club News & Happenings

2019 LOTSA Salmon School
Attention Great Lakes Salmon Fishermen! On Saturday, January 19, 2019 the Lake Ontario Trout & Salmon Association (LOTSA) is proud to (once again) host its well-known in-depth Salmon School. This highly acclaimed school, now in its 12th year, has become the premier Salmon School anywhere in the Great Lakes. What started out as a local event 11 years ago now sees many diehard salmon anglers from across the Great Lakes and Canada attending. The School, coupled with all of the trout and salmon exhibitors at the Greater Niagara Fishing and Outdoor Expo (January 18 – 20), makes this a "must attend" three-day winter event for many.
The School consists of six hours of detailed instruction taught by three expert captains and this year they are:
Capt. Pete Alex (Vision Quest Sportfishing out of the port of Wilson and other Canadian ports); Capt. Andy Bliss (Cold Steel Sportfishing & Chasin' Tail Adventures out of Oswego and the Salmon River); and Capt. Matt Yablonsky (Wet Net Charters out Youngstown, Wilson and Olcott.).
Salmon School Details
The registration price of $85 includes free admission to the Greater Niagara Fishing and Outdoor Expo for all 3 days, your 2019 LOTSA Membership, a hot buffet lunch (or alternative for dietary needs) on Saturday with beverages available throughout the class and a "goodie" bag consisting of the "go to" baits of the instructors. Also included for the first time this year is a Friday night one hour "Meet & Greet" with the instructors that includes free drinks and snacks.  The class (and Expo) is held at the Conference and Event Center Niagara Falls in a "state of the art" conference room with a large screen, stage, good seating with tables and a good sound system that all make for a comfortable venue throughout the day for everyone attending. Given the quality of what you will be taught, coupled with the lunch, "goodie bag" and free admissions, it is a terrific value and a great way to start your 2019 season. Doors open at 7 a.m. for check in and the class runs from 8 a.m. to 4 p.m..
The Salmon School is not meant for novices to the Lake Ontario fishery. It is a "hard core" salmon class targeted toward providing the "experienced weekend warrior" with additional insights and details to improve their catch in the limited time they have on the water. As the Great Lakes continue to change and become a much more challenging fishery, knowledge is often the difference between having a couple of bites or having steady bites throughout the day.
This is a custom class built from the input from the attendees on what is most important to them to cover. It is not an "off the shelf" class for the masses. Each attendee will have the opportunity to submit their top three topics that they want to have covered in the class. The instructors will then use this input to customize the curriculum to cover these particular areas.
The School sells out every year as many of the attendees come back year after year – which is the ultimate testimony to the value of attending the school. Signups will be available beginning in early September.  Early signups are encouraged to give the instructors enough time to build the curriculum for the desired topics.
These three captains offer a huge amount of on-the-water experience trolling for trout and salmon along with a proven tournament track record of high placement in the most prestigious tournaments over many years. They are a much diversified set of instructors and will provide a class full of insights and details that no one single instructor would be able to provide. They are all skilled communicators and very well known for sharing their fishing knowledge and daily fishing trips with anglers to help them to be more successful fishing the lake. Each brings their own unique set of trolling skills, techniques and knowledge to the class. Given the depth of the knowledge base of these instructors and their proven ability to educate anglers, we expect this school to be another high quality, comprehensive, in-depth, information-packed event that our attendees have come to expect from this annual day-long instruction.
Captain Pete Alex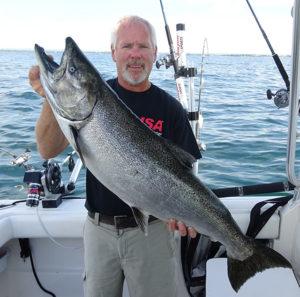 Captain Pete is a 53 year old salmon and trout fishing addict and reached his 30th year as a licensed charter captain in 2018. Pete has always had a passion for fishing and especially tournament fishing which helps feed his competitive side. He has accumulated fishing experience on Lakes Ontario, Erie, Michigan and Huron.
Captain Pete and his Vision Quest Fishing Teams have won over 20 events on Lake Ontario and Lake Erie and have amassed over 100 Top 10 finishes since 2006.  He ended the 2017 season by winning the Fall King of The Lake event, FishUSA overall Championship and the 1st annual Lake Ontario Championship Series. He feels that tournament fishing helps improve his overall fishing game.
Pete enjoys doing seminars, educating and helping other anglers improve their fish catching ability. He believes he is a very diverse angler and can consistently catch both salmon and trout species by applying what he has learned over the years.
He consistently fishes Lake Ontario from the end of April to third week of June then returns occasionally to fish throughout the remainder of the season. He really considers himself a part time angler on Lake Ontario and must figure things out each time he returns.  He believes that there are reasons some anglers locate and catch fish consistently, while some do not. He hopes he can provide some of that knowledge to you at this year's Salmon School.
Pete represents these companies: FishUSA, Dreamweaver, Shark Cannonballs, Silver Horde, Fish Hawk, A-TOM-MIK Trolling Flies, Costa Sunglasses and Shimano.
Captain Andy Bliss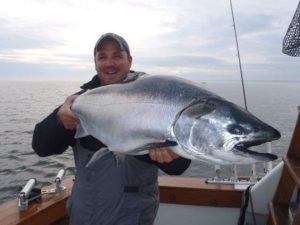 Capt. Andy first fished Lake Ontario in 1987 at the age of 7. He was hooked salmon fishing ever since! Since his early start he was able to work on many charters from Sodus Bay and Oswego learning many different styles and techniques from a variety of Captains. In '99 he started fishing full time aboard the Cold Steel out of Oswego with Capt. Tom Burke. Since then they have competed in many tournaments from the East end to the West end of the lake.
With over 20 first place finishes and numerous Top Ten finishes, they know what it takes to be the best! They have won the Lake Ontario Challenge Cup 4 times and they were runner up another 5 times! This experience has taught them how to fish in many different conditions and produce results.
Capt. Andy love fishing the open waters of Lake Ontario and typically compares it to a chess match. He enjoys teaching the techniques to become successful at catching these special fish to anyone who is willing to learn.
Capt. Andy represents these companies: Michigan Stinger, A-TOM-MIK, Pautzke Bait Co., Pro-Troll, Cannon Downriggers, Humminbird electronics, BayRats Lures, Shark Cannonballs
Captain Matt Yablonsky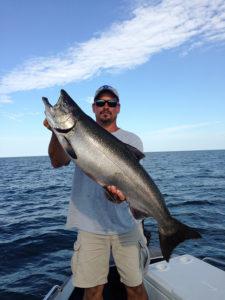 Captain Matt has been a charter captain for 12 years and has have been fishing the Niagara Region for 18 years.  He has been a full time charter captain for the last 6 years.  On average he's on the water 250 days a year.  He runs charters on Lake Erie, Lake Ontario and the Lower Niagara River. A lot of people refer to him as "the small boat guy." He has been operating his business out of a 21-foot Lund boat since he started chartering.  It has allowed him to operate charters on both lakes and the Niagara River comfortably and safely. On Lake Erie he fishes for smallmouth bass, walleye and perch.  On Lake Ontario he trolls for all species of trout and salmon. He also fishes the Lower Niagara River from September through May for trout and salmon.
Captain Matt fishes many tournaments and derbies throughout the year including the Lake Ontario Pro-Am series, LOC Derby, Lower Niagara Sportfishing Challenge, Niagara Basseye and Reeling for a Cure.  In the LOC Derby alone he has 40 top 20 places since 2009, of which 2 are grand prize, 6 are first place and 4 are second place.  He was on the winning team for the Niagara Pro-Am in 2006 and won the Trophy division of the Niagara Pro-Am in 2012 as a captain.  He has had the grand champion team 3 times and grand champion angler 4 times in the Lower Niagara Sportfishing Challenge.  He has also had the grand champion team and grand champion angler twice in the Niagara Basseye.  Captain Matt has had multiple articles written about his derby wins and techniques of fishing the various bodies of water in the Erie-Niagara region. You can find these articles in the Great Lakes Angler, Lake Ontario Outdoors, The Fisherman magazine, Salmon-Trout-Steelheader magazine and New York Outdoor News.
Captain Matt has provided footage for various television shows. One of the shows was filmed on the Lower Niagara River for Illinois Outdoors.  Other television shows were filmed on Lake Ontario for CRCS OUTDOORS.  So far he has filmed 6 episodes for CRCS Outdoors.
Matt represents these companies: Yakima Bait Co., A-TOM-MIK Trolling flies, Silver Streak spoons, Torpedo, Tuf-Line and Shimano
If you love to fish the Great Lakes for Kings, this is a great way to "Kick Off" your 2019 Season. Where else would you want to be in the Great Lakes on a Saturday in January than learning how to increase your catch from 3 expert Captains, sitting in a comfortable venue talking salmon fishing with a room full of individuals with the same common interest that you have? Tickets are pre-sale only and have sold out every year (early December sellout for the 2018 School). So, signup early so that you are guaranteed a seat to avoid being left out in the cold.
Register or Renew your LOTSA membership as well as view the current LOTSA Membership list.
The well-known, in-depth salmon school of detailed instruction taught by top captains.
A fun tournament with simple rules that encourages family participation & promotion of the fishery.
Tournament to catch and weight three largest fish; the combined weight determining the winner.
"Fishing is much more than fish. It is the great occasion when we may return to the fine simplicity of our forefathers... "
Local Weather
Lockport, NY
Issued:

9:45 PM EST on January 18, 2019

Expires:

6:00 PM EST on January 20, 2019
Snow

Periods of snow. High 18F. Winds ENE at 10 to 20 mph. Chance of snow 90%. 3 to 5 inches of snow expected.

Snow Showers

Mainly cloudy with snow showers around in the morning. Very cold. High 12F. Winds NNW at 10 to 20 mph. Chance of snow 60%. Snow accumulations less than one inch.

Overcast

Cloudy skies. A few flurries or snow showers possible. High 9F. Winds NW at 10 to 20 mph.

Overcast

Overcast. High 26F. Winds SE at 5 to 10 mph.

Snow

Morning light rain followed by a mix of rain and snow showers in the afternoon. High 38F. Winds WSW at 10 to 20 mph. Chance of precip 80%.

Snow Showers

Snow showers. High 29F. Winds N at 5 to 10 mph. Chance of snow 50%. Snowfall around one inch.

Overcast

Cloudy. High 22F. Winds W at 10 to 20 mph.
Come on, Join Us!
We are always looking for new members. Young, old, amateur or pro – consider joining us!