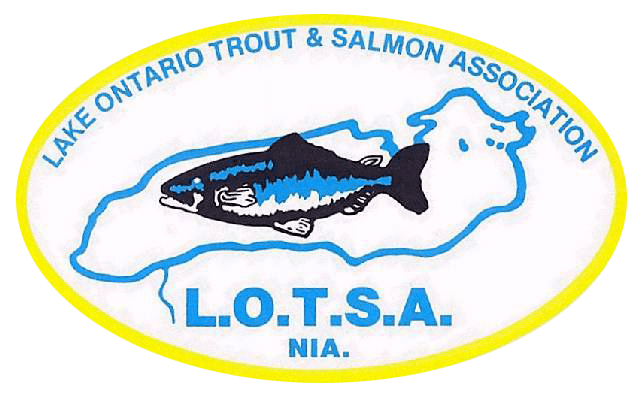 Lake Ontario Trout & Salmon Association (LOTSA)
LOTSA is a Not-For-Profit group of mainly weekend recreational fishermen who are dedicated to the enhancement and promotion of the Lake Ontario Sport-Fishery. LOTSA places a heavy emphasis on Education including recruiting new Anglers to the Lake Ontario Fishery and providing continual Education opportunities for the experienced Anglers.
LOTSA meetings are held on the 2nd Thursday of certain months (see events below) at 7:00 p.m. at the Cornell Cooperative Extension, 4487 Lake Ave. (Route 78, two miles north of Lockport), Lockport, NY and usually feature an informational seminar on a particular topic relating to the Lake Ontario fishery. Each meeting also features a sharing of information on the current fishing conditions.  Get Directions >>
2018 LOTSA Events
Download Fishing Show Discount Coupon

SEMINAR SERIES:
The dates of our meetings are listed below. They begin at 7pm at the 4H Cornell Cooperative Extension, 4487 Lake Avenue (Rt 78 two miles north of Lockport), Lockport, NY 14094
Thursday April 12th – Tournament Spring Kings Techniques with TBD
Thursday May 10th – "At the Dock" talking Kings with Captain Rich Hajecki (meeting at the Wilson Boathouse)
Thursday June 14th – Everything Matters when it comes to Kings with Captain Joe Yaeger
Thursday July 12th – Summer Lake Erie Walleye Tactics with Captain Jim Skoczylas
Thursday September 13th – Season Wrap Up Roundtable with multiple LOTSA Captains
Thursday December 13th – Annual Christmas Party
15th Annual LOTSA King Salmon Tournament & Free Picnic:
Saturday July 21nd at Olcott. 9th Annual Curt Meddaugh Memorial Tournament Friday July 20.
LOTSA "Tournaments within a Tournament, free for LOTSA Members" 
Spring LOC Derby $1000 Cash Largest Salmon 5/11 – 5/20
Summer LOC Derby $500 Cash Largest Salmon 6/30 – 7/29
Fish Odyssey $700 Cash Largest Salmon 8/18 – 8/26
Fall LOC Derby $500 Cash Largest Salmon 8/17 – 9/03
Latest Club News & Happenings
Greater Niagara Fishing Show
Just a reminder about the Greater Niagara Fishing and Outdoor Expo that is set for January 19 – 21, 2018. For any of you guys who aren't aware, we in LOTSA started up a one day Fishing Flea Market twelve years ago with the main goal of creating a yearly funding source to allow us to continue our Pen Rearing project at Olcott. This grew the following year to become a two-day event with our first Salmon School on Saturday along with a Kids Fishing Class and the Flea Market on Sunday. Over the years, the demand for it grew larger each year until we outgrew that facility. Five years ago we had the opportunity to move our show to a "State of the Art" facility that would allow the LOTSA core goals and values of our show to continue in a much larger facility with without burning out the LOTSA volunteers who worked very hard every year to put on our show.
This January, five years later, the show is now one of the largest Fishing shows anywhere in the Great Lakes and North East. It provides more fishing education than maybe any Fishing Show in the country, continues to fund our Pen Rearing project, promotes the great Fishery we have and helps recruit new anglers including our youth into Fishing. The show has grown from attendance of less than 500 anglers the first year to almost 9,000 last year. We started out with members selling their used tackle along with a couple of Lake Ontario oriented tackle Manufacturers. It has now grown to include most of the Manufacturers that provide us with the tackle and gear we use to fish Lake Ontario. The Flea Market used tackle has been replaced with a good number of high quality Retailers selling the tackle and gear we use to fish Lake Ontario priced right for the Show. In addition, this year we will have for the first time the top four Marine Electronics Manufacturers (Lowrance, Humminbird, Garmin and Raymarine) with Booths at the show staffed by their experts. Our LOTSA Salmon School sold out for the 11th year in a row and set records for our earliest sell out ever and the largest number of attendees we have ever hosted.
One of our goals from day one was to create a fun affordable "Fishing" social event for our members to help break up the winter. We feel good that we will accomplish this again in a few weeks. The Greater Niagara Fishing and Outdoor Expo runs January 19th – 21st. I would encourage you to look at everything the show has to offer for die-hard anglers and consider taking in all 3 days.. Even if you were not able to get in to the sold out Salmon School, there are free Trout & Salmon seminars running continuously throughout the Show taught by expert captains including previous Salmon School instructors Dan Keating and Mark McCluthey. You can see everything the show has to offer at www.NiagaraFishingExpo.com.
Therefore, what we need from you our members is simple. To attend and enjoy yourselves, to bring some of your fishing friends with you and to help spread the word about this Fishing show. There is a lot more to it than just Trout & Salmon as it has something for anyone who like to freshwater fish from those just starting out to the tournament level anglers. In order to continue to draw the type of Exhibitors to the show, they need to see the interest from the fishing community in terms of attendance at the show.
LOTSA has a Booth (#11) at the show and we are always looking for volunteers to help run it. Kevin Flaherty is running our booth this show. His email is (teamflah101@hotmail.com) if you can help us out by helping out by working the booth for a few hours during the show. Please also stop by to say hello and renew your membership for 2018 if you have not done so already. LOTSA discount vouchers are available for printing on our web site. These provide you with a $1 off admission at the door. For every one of these cards used LOTSA also receives $1 toward a cash prize in the 2018 LOTSA Tournament & Picnic. Please use them and give them out to your friends, as they are a win/win for everyone.
2018 LOTSA SALMON SCHOOL
Attention Great Lakes Salmon Fishermen! On Saturday, January 20, 2018 the Lake Ontario Trout & Salmon Association (LOTSA) is proud to (once again) host its well-known in-depth Salmon School. This highly acclaimed school, now in its 11thyear, has become the premier Salmon School anywhere in the Great Lakes. What started out as a local event 10 years ago now sees many diehard salmon anglers from across the Great Lakes and Canada attending. The School, coupled with all of the trout and salmon exhibitors at the Greater Niagara Fishing and Outdoor Expo, makes this a "must attend" three-day winter event for many.
The School consists of six hours of detailed instruction taught by three expert captains and this year they are:
Capt. Captain Richard Hajecki (Crazy Yankee Sportfishing out of the ports of Oak Orchard, Wilson & Rochester NY); Capt. Greg Amiel (Fishing 4 Tails guiding service out of multiple Canadian Lake Ontario ports and Capt. Jason Coslow (KC-1 Sport Fishing out of numerous eastern Lake Michigan ports).
These three captains offer a huge amount of on-the-water experience trolling for trout and salmon along with a proven tournament track record of high placement in the most prestigious tournaments over many years. They are a much diversified set of instructors and will provide a class full of insights and details that no one single instructor would be able to provide. They are all skilled communicators and very well known for sharing their fishing knowledge and daily fishing trips with anglers to help them to be more successful fishing the lake. Each brings their own unique set of trolling skills, techniques and knowledge to the class. Given the depth of the knowledge base of these instructors and their proven ability to educate anglers, we expect this school to be another high quality, comprehensive, in-depth, information-packed event that our attendees have come to expect from this annual day-long instruction.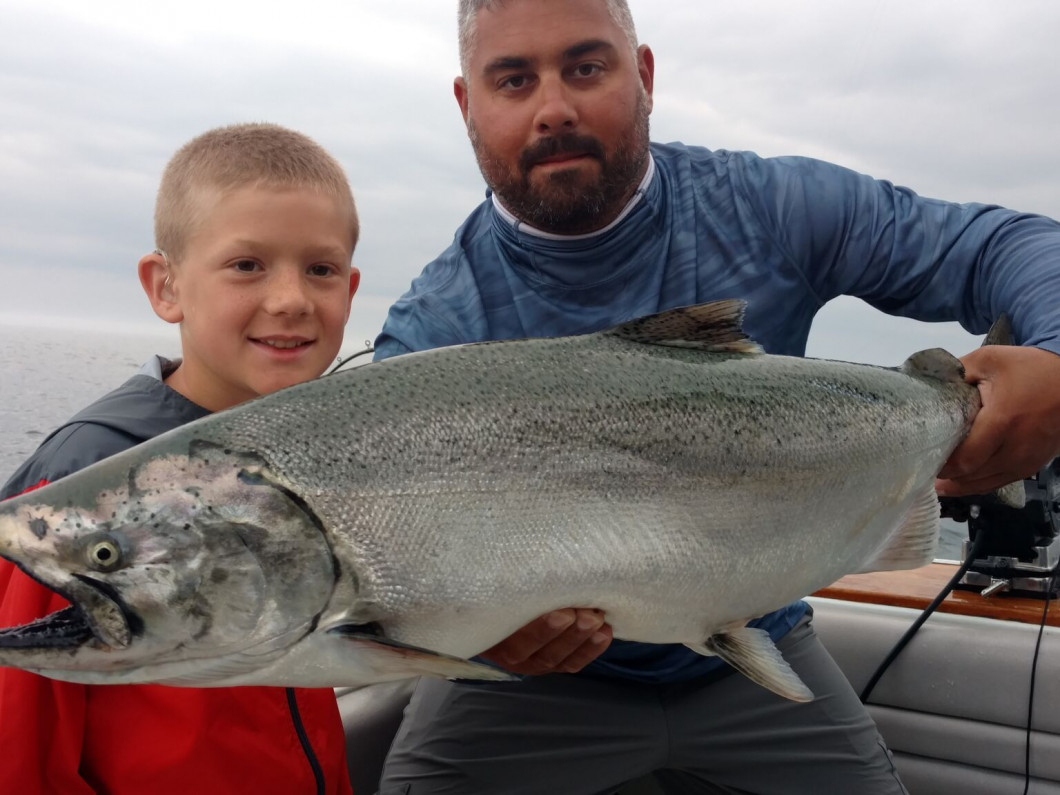 Captain Richard Hajecki
Captain Richard Hajecki has been fishing Lake Ontario for 30 years. His father introduced him and his brother, Captain Craig Hajecki, to salmon and trout fishing when they were just six or seven years old. The addiction took hold and Captain Richard became the household alarm clock every weekend of the season! Captain Richard started out fishing the ESLO Derby, which changed hands and became the LOC Derby with family and friends. Around 2004, the Hajecki family decided to give tournaments a try on the amateur side, and they had some success. In 2007, they switched over to the Pro side of tournament fishing and they won their first event – the Orleans County Pro-Am! Since then Captain Richard has led team Yankee Troller to 10 tournament wins, 36 Top 5 placings, and 16 Top 10 placings since 2007. Each season he participates in tournaments held in both countries and on both ends of Lake Ontario. One of Captain Richard's biggest accomplishments was in 2013 when he led team Yankee Troller onto winning the Lake Ontario Challenge Cup Championship. When Captain Richard isn't tournament fishing he is chartering under his business Crazy Yankee Sportfishing. He is generally the first boat in during late March as he probes the waters off Rochester for Spring Brown Trout. Around May 1st he can be found off the Niagara Bar catching Spring King Salmon out of the Port of Wilson. Once the West end tournaments are over he heads back to the Port he calls home at Pt. Breeze on the Oak Orchard River. You can follow Captain Richard's fishing reports on his blog as well as his business's Facebook page – Crazy Yankee Sportfishing. He is sponsored by Cannon Downriggers | Humminbird Electronics | Bay Rat Lures | Dreamweaver Lures | A-TOM-MIK Manufacturing | Daiwa Rods and Reels | Smart Troll | FishUSA | McCoy Fishing Line | Familiar Bite | Under Armour.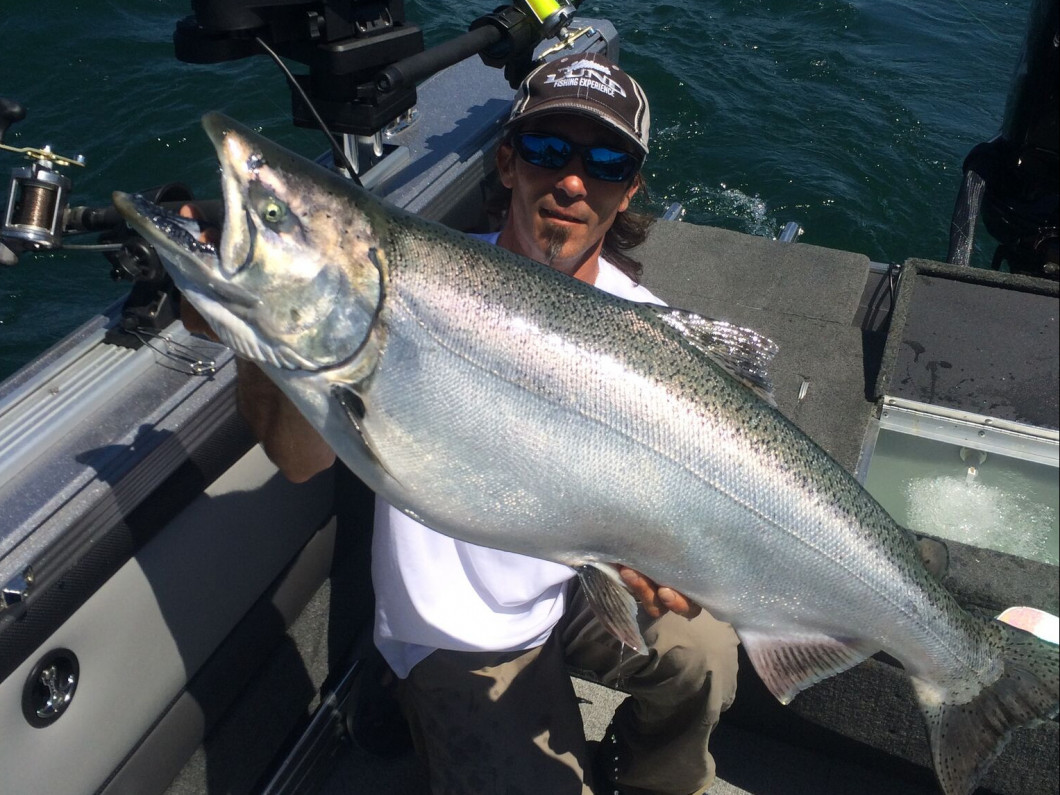 Greg Amiel
Greg Amiel is a 44 year old Richmond Hill, Ontario resident, owner of Fishing 4 Tails guiding service. As a Multi-Species Pro Angling Specialist, Greg fishes on average 150 days a year on the water. His character is driven to fish, with always wanting to gain more knowledge in a better bite, new techniques and figuring out daily fish patterns. Greg has won many tournaments and derbies throughout Lake Ontario for salmon and other species in the past 10 years. Greg and his family currently hold 11 IGFA World Records.
Greg targets fish of all species from musky to salmon in his surrounding waters. Ontario is a goldmine in terms of the many lakes and multi species all within a couple hours drive. With his salt water background, he is able to apply many different strategies, to increase his odds in tournaments and keeping his clients busy reeling in fish. He is able to teach anglers various techniques with his broad knowledge of seasonal patterns, lunar phases, water quality, baitfish movement and the when and where of fishing. He is sponsored by Lund, Mercury, Scotty, Gibbs Delta, Smooth Moves Seats, Shimano, J.B.'s Fishing Depot, Off Shore Tackle and Wack 'M Tackle.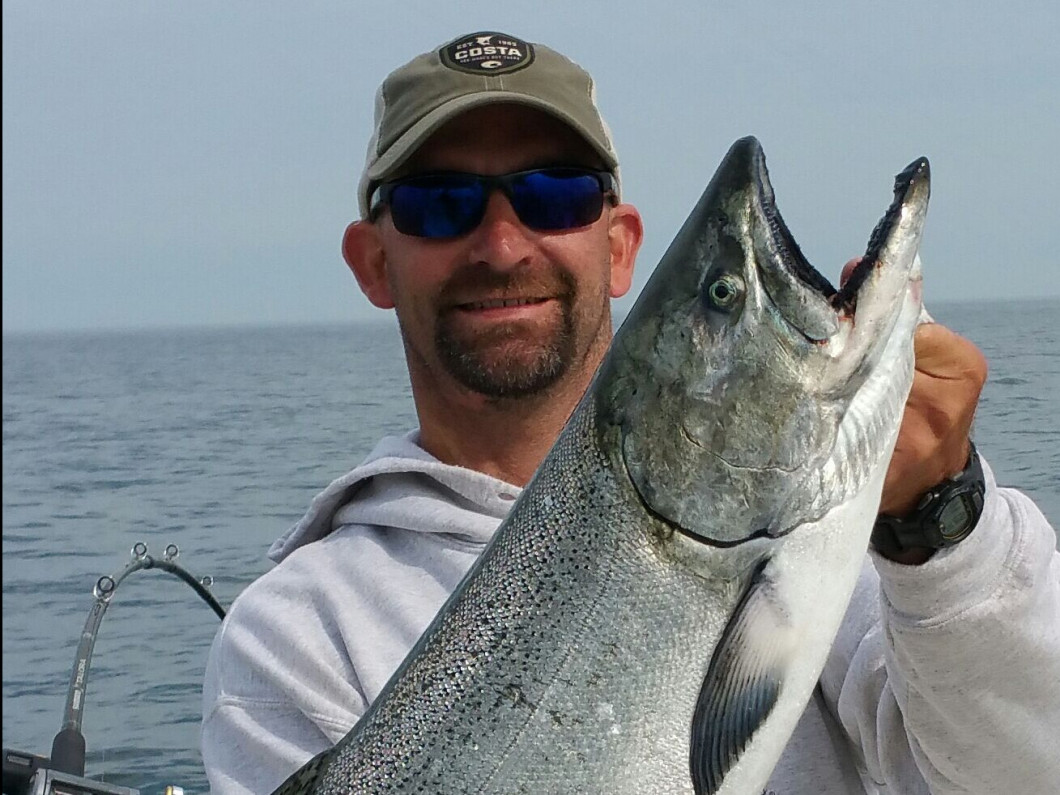 Jason Coslow
Jason Coslow has been chasing salmon and trout in Michigan waters (rivers, streams and Lake Michigan) since he was old enough to hold a fishing pole. His addiction to tournament fishing started over 20 years ago and he has become one of the most successful and most respected captains on the Tournament Trail. Jason is a charter captain and leads one of the winningest teams, KC-1, on Lake Michigan. He is well known by his clients as a great teacher that will take the time to share his knowledge and experience with anyone who asks. Lastly, Jason and his team took the title of Salmon Showdown Broadcast Champions in 2016.
The Salmon School is not meant for novices to the Lake Ontario fishery. It is a "hard core" salmon class targeted toward providing the "experienced weekend warrior" with additional insights and details to improve their catch in the limited time they have on the water. As the Great Lakes continue to change and become a much more challenging fishery, knowledge is often the difference between having a couple of bites or having steady bites throughout the day.
The LOTSA Salmon School is a custom class built from the input from the attendees on what is most important to them to cover. It is not an "off the shelf" class for the masses. Each attendee will have the opportunity to submit their top three topics that they want to have covered in the class. The instructors will then use this input to customize the curriculum to cover these particular areas.
SALMON SCHOOL REGISTRATION
The registration price includes free admission to the Greater Niagara Fishing and Outdoor Expo on Saturday and Sunday, your 2018 LOTSA Membership, a hot buffet lunch on Saturday with beverages available throughout the class and a "goodie" bag consisting of the "go to" baits of the instructors. The class (and Expo) is held at the Conference and Event Center Niagara Falls in a "state of the art" conference room with a large screen, stage, good seating with tables and a good sound system that all make for a comfortable venue throughout the day for everyone attending. Given the quality of what you will be taught, coupled with the lunch, "goodie bag" and free admissions, it is a terrific value and a great way to start your 2018 season. Where else would you want to be in the Great Lakes on a Saturday in January than at a nice and comfortable venue talking salmon fishing with a room full of individuals with the same common interest that you have?  Doors open at 730 for check in and the class runs from 830 to 330.
The School sells out every year as many of the attendees come back year after year which is the ultimate testimony to the value of attending the school. Early signups are encouraged to give the instructors enough time to build the curriculum for the desired topics and so that you are guaranteed a seat to avoid being left out in the cold.
Register or Renew your LOTSA membership as well as view the current LOTSA Membership list.
The well-known, in-depth salmon school of detailed instruction taught by top captains.
A fun tournament with simple rules that encourages family participation & promotion of the fishery.
Tournament to catch and weight three largest fish; the combined weight determining the winner.
"Fishing is much more than fish. It is the great occasion when we may return to the fine simplicity of our forefathers... "
Local Weather
Lockport, NY
Issued:

1:18 AM EST on January 22, 2018

Expires:

7:00 PM EST on January 23, 2018
Issued:

2:35 AM EST on January 22, 2018

Expires:

10:00 AM EST on January 22, 2018
Rain

Periods of rain. High around 40F. Winds E at 10 to 15 mph. Chance of rain 90%. Rainfall near a quarter of an inch.

Chance of Rain

Cloudy with showers. Snow may mix in. High 46F. Winds SW at 15 to 25 mph. Chance of rain 40%.

Mostly Cloudy

Mostly cloudy skies. High 26F. Winds WNW at 10 to 20 mph.

Partly Cloudy

Some clouds in the morning will give way to mainly sunny skies for the afternoon. High 26F. Winds NW at 5 to 10 mph.

Clear

Except for a few afternoon clouds, mainly sunny. High 43F. Winds SSE at 5 to 10 mph.

Partly Cloudy

Cloudy and windy. High 46F. Winds SW at 20 to 30 mph.

Chance of Rain

Rain showers early with some sunshine later in the day. A few flurries or snow showers possible. High 41F. Winds WSW at 10 to 20 mph. Chance of rain 50%.
Come on, Join Us!
We are always looking for new members. Young, old, amateur or pro – consider joining us!