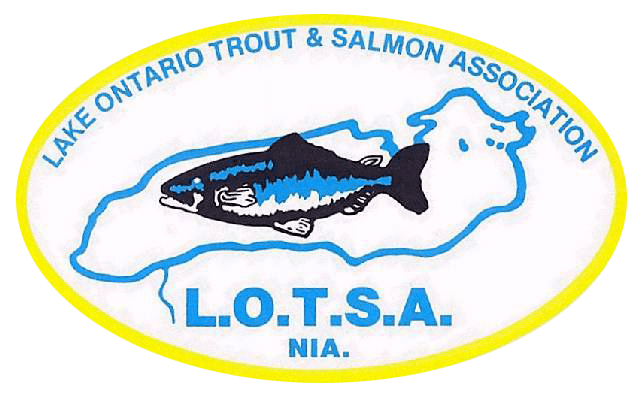 Lake Ontario Trout & Salmon Association (LOTSA)
LOTSA is a Not-For-Profit group of mainly weekend recreational fishermen who are dedicated to the enhancement and promotion of the Lake Ontario Sport-Fishery. LOTSA places a heavy emphasis on Education including recruiting new Anglers to the Lake Ontario Fishery and providing continual Education opportunities for the experienced Anglers.
LOTSA meetings are held on the 2nd Thursday of certain months (see events below) at 7:00 p.m. at the Cornell Cooperative Extension, 4487 Lake Ave. (Route 78, two miles north of Lockport), Lockport, NY and usually feature an informational seminar on a particular topic relating to the Lake Ontario fishery. Each meeting also features a sharing of information on the current fishing conditions.  Get Directions >>
2018 LOTSA Events
SEMINAR SERIES:
The dates of our meetings are listed below. They begin at 7pm at the 4H Cornell Cooperative Extension, 4487 Lake Avenue (Rt 78 two miles north of Lockport), Lockport, NY 14094
Thursday April 12th – Tournament Spring Kings Techniques with Captain Vince Pierleoni of Team Thrillseeker
Thursday May 10th – "At the Dock" talking Kings with Captain Rich Hajecki (meeting at the Wilson Boathouse)
Thursday June 14th – Everything Matters when it comes to Kings with Captain Joe Yaeger
Thursday July 12th – Summer Lake Erie Walleye Tactics with Captain Jim Skoczylas
Thursday September 13th – Season Wrap Up Roundtable with multiple LOTSA Captains
Thursday December 13th – Annual Christmas Party
15th Annual LOTSA King Salmon Tournament & Free Picnic:
Saturday July 21nd at Olcott. 9th Annual Curt Meddaugh Memorial Tournament Friday July 20.
LOTSA "Tournaments within a Tournament, free for LOTSA Members" 
Spring LOC Derby $1000 Cash Largest Salmon 5/11 – 5/20
Summer LOC Derby $500 Cash Largest Salmon 6/30 – 7/29
Fish Odyssey $700 Cash Largest Salmon 8/18 – 8/26
Fall LOC Derby $500 Cash Largest Salmon 8/17 – 9/03
Latest Club News & Happenings
2018 LOTSA Pen Rearing Update
On Saturday April 7th, LOTSA will be assembling the net pens for our 67,100 chinook salmon and 3,500 steelhead.  We will be meeting at the Town of Newfane Marina in Olcott NY at 9:30am.  Please dress warm and bring side cutters to clip zip ties.  Come out and help a great cause, make and meet new friends.  There will be donuts and coffee provided.

2018 LOTSA Pen Rearing Project
The LOTSA pen rearing project is located in the Town of Newfane Marina on Eighteen Mile creek.  We receive from the NY DEC  67,100 Chinook salmon and 3,500 steelhead every spring.  The idea is to receive them prior to smoltification so that the baby fish will imprint to the local water and ideally return to spawn in those waters three to four years later.  Studies have also shown that pen reared fish have a 2 to 1 survival rate over direct stocked salmon, and we have seen evidence of this in fall runs.  The fish usually arrive in mid April depending on the DEC's schedule.  This is a great time to come down and watch the operation.  Once received, they are fed on a continuous basis via automatic feeders that the club purchased in 2017.  The town marina employees load the feeders every morning which provides 12 hours of slow continuous feed for the fish.  We try to hold the fish for approximately three weeks to allow for imprinting and maximum possible growth, however water temperature, dissolved oxygen levels and actual fish growth play a major role in when the fish are released.  The fish are weighed when they are received, once per week while they are being held and just before they are released so that we can monitor and record their growth.  We try to release the fish in the evening just before sunset, the thought process is they will have a better chance of dispersing and have less predation from birds and other prey fish in the dark conditions.  Once the fish are released the pens have to be removed from the water, pressure washed, inspected and hung to dry for use the next year.
In 2017 the Fairhaven Pen Project conducted a study with the cooperation of NYDEC trying a new food for one of their Chinook pens.  The end result was 17% higher growth rate over the pen that was fed the regular state supplied food.  This year the NYDEC has authorized the use of a new Bio-Oregon food for all pen sites.  We are excited to feed this new food to our fish and see these results for our selves.
WE NEED YOUR HELP!  We need as much help as possible to prepare the nets/pens for the fish.  This year, we will be meeting April 7th at 9:30am to prepare the pens and get them in the water.  We will also need help the day that the fish arrive, this date will is yet to be determined.  The day that the pens are pulled from the water is also a day that we will need a lot of help, this date is yet to be determined as well.
Announcements will be made on this site as well as our FaceBook page.  We would welcome and appreciate as much help as possible.
We would like to take the opportunity to thank the Town of Newfane Marina Staff and Wes Walker from the Slippery Sinker in Olcott for all of the help and time that they put in to this project to make it work.
Register or Renew your LOTSA membership as well as view the current LOTSA Membership list.
The well-known, in-depth salmon school of detailed instruction taught by top captains.
A fun tournament with simple rules that encourages family participation & promotion of the fishery.
Tournament to catch and weight three largest fish; the combined weight determining the winner.
"Fishing is much more than fish. It is the great occasion when we may return to the fine simplicity of our forefathers... "
Local Weather
Lockport, NY
Partly Cloudy

Partly cloudy. Lows overnight in the mid 20s.

Overcast

Cloudy. High 37F. Winds NW at 10 to 20 mph.

Partly Cloudy

Cloudy early with partial sunshine expected late. High 36F. Winds NW at 10 to 15 mph.

Partly Cloudy

Sunshine and clouds mixed. High 37F. Winds NNE at 10 to 15 mph.

Clear

Sun and a few passing clouds. High 36F. Winds ENE at 10 to 20 mph.

Clear

A mainly sunny sky. High 47F. Winds ESE at 10 to 15 mph.

Partly Cloudy

Partly cloudy skies. High 53F. Winds S at 5 to 10 mph.
Come on, Join Us!
We are always looking for new members. Young, old, amateur or pro – consider joining us!