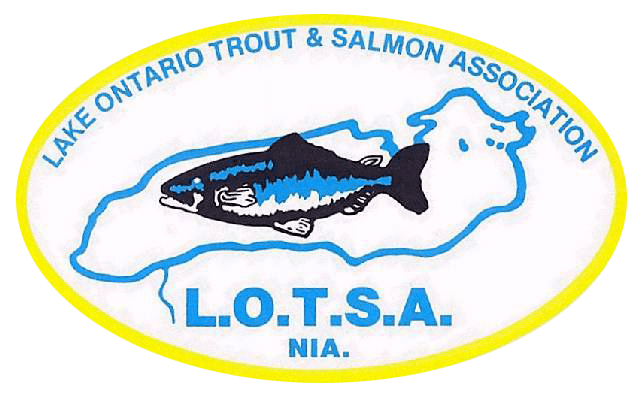 Lake Ontario Trout & Salmon Association (LOTSA)
LOTSA is a Not-For-Profit group of mainly weekend recreational fishermen who are dedicated to the enhancement and promotion of the Lake Ontario Sport-Fishery. LOTSA places a heavy emphasis on Education including recruiting new Anglers to the Lake Ontario Fishery and providing continual Education opportunities for the experienced Anglers. 
LOTSA meetings are held on the 2nd Thursday of certain months (see events below) at 7:00 p.m. at the Cornell Cooperative Extension, 4487 Lake Ave. (Route 78, two miles north of Lockport), Lockport, NY and usually feature an informational seminar on a particular topic relating to the Lake Ontario fishery. Each meeting also features a sharing of information on the current fishing conditions.  Get Directions >>
2017 LOTSA Events
SEMINAR SERIES:
The dates of our meetings are listed below. They begin at 7pm at the 4H Cornell Cooperative Extension, 4487 Lake Avenue (Rt 78 two miles north of Lockport), Lockport, NY 14094
Thursday April 13     – Tournament Spring Kings Techniques With Captain Matt Dunn
Thursday May 11      – LOC Derby Round Table With multiple LOTSA Captains
Thursday June 8       – How to Catch Big Walleyes With Captain Marty Polovick
Thursday July 13       – Summer Kings Small Boat Tactics With Captain Matt Yablonsky
Thursday Sep 14      – Season Wrap Up Roundtable  With multiple LOTSA Captains
Thursday Dec 14      – Annual Christmas Party
14th Annual LOTSA King Salmon Tournament & Free Picnic:
Saturday July 22nd at Olcott.  8th Annual Curt Meddaugh Memorial Tournament Friday July 21.
LOTSA "Tournaments within a Tournament, free for LOTSA Members" 
Spring LOC Derby            $1000 Cash Largest Salmon           5/05 – 5/14
Summer LOC Derby         $500   Cash Largest Salmon           7/01 – 7/31
Fish Odyssey                    $700   Cash Largest Salmon           8/19 – 8/27
Fall LOC Derby                 $500   Cash Largest Salmon           8/18 – 9/04
Latest Club News & Happenings
May LOTSA Meet and LOTSA Spring LOC Derby Tournament
Our next membership meeting is Thursday May 11. This year the meeting is right in the middle of the Spring LOC Derby which many of our member fish. Our meeting will be a "Round Table" format focused on current information by those fishing this week. It is our "Fishiest" meeting of the year and everyone who attends will take away some information that they can use going forward.
Speaking of the Spring LOC Derby, LOTSA will again be hosting a "Tournament within a Tournament" with the LOC Derby to see which member catches the largest King during the LOC Derby. It is the first of 5 free to enter Tournaments for our members to fish over the year. We will pay out $3,300 for the 5 Tournaments of which $1,000 total will be paid for the largest valid LOC Salmon in the Spring Derby. . Both entrant and witness must be LOTSA members and noted on the official LOC Weigh -In form to be valid.
2017 LOTSA Pen Rearing Program:
For the last several years, LOTSA's net pen project located in Olcott NY has been one of the most successful pen projects in New York, producing some of the largest and healthiest young salmon and steelhead seen on the south shore of Lake Ontario.
One of the keys to the success of this project is largely due to the cooperation and participation of the Town of Newfane Marina employees. Over the years they have ensured that almost every scheduled feeding has taken place. This has resulted in consistent growth and a high quality end product for all of us to enjoy. They have done a great job, and we thank them for their tireless efffort. Through 2016, the baby fish have been fed five times per day by broadcasting the feed little bits at a time over the top of the pens. The food drops through the net on top of the pens falling to the waiting fish. Depending on how the food is spread and the size of handful used, food could possibly make it all the way through the pen without being eaten. This year (2017) we have purchased automatic feeders (pictured below) for the pens. There will be two feeders suspended over each pen. Over the course of twelve hours food will be trickled very slowly into the pens allowing for a more consistent feed and hopefully no waste.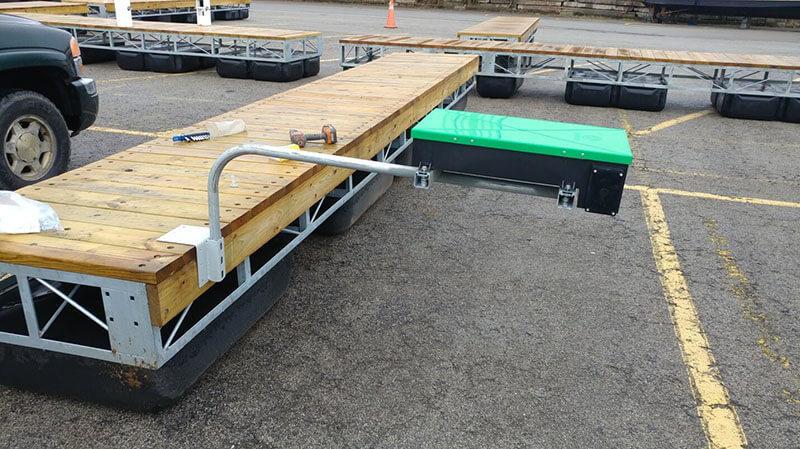 Volunteers are always needed and welcomed. Please come out and help the club and the fishery.
Some key dates to remember for 2017 are:
April 8 – The pens will be assembled and placed into the water. Lots of help is needed for this, Bring side cutters.
April 9-15 – At some point yet to be determined this week the fish will be delivered. Very fun and interesting. Bring the kids!
May 4 – Pens will be removed and cleaned. There is never enough help for this evolution. Lunch will be provided.
Register or Renew your LOTSA membership as well as view the current LOTSA Membership list.
The well-known, in-depth salmon school of detailed instruction taught by top captains.
A fun tournament with simple rules that encourages family participation & promotion of the fishery.
Tournament to catch and weight three largest fish; the combined weight determining the winner.
"Fishing is much more than fish. It is the great occasion when we may return to the fine simplicity of our forefathers... "
– Herbert Hoover
Local Weather
Lockport, NY
Issued:

Expires:

5:15 AM EDT on May 25, 2017
Issued:

10:34 PM EDT on May 24, 2017

Expires:

2:00 AM EDT on May 26, 2017
Rain

A steady rain in the morning. Showers continuing in the afternoon. Thunder possible. High 58F. Winds E at 10 to 20 mph. Chance of rain 100%. Rainfall near an inch.

Overcast

Cloudy. Slight chance of a rain shower. High 63F. Winds WNW at 5 to 10 mph.

Partly Cloudy

Intervals of clouds and sunshine. High near 70F. Winds W at 5 to 10 mph.

Thunderstorm

Thunderstorms. High 71F. Winds S at 5 to 10 mph. Chance of rain 90%.

Partly Cloudy

Intervals of clouds and sunshine. A stray shower or thunderstorm is possible. High 71F. Winds SW at 10 to 20 mph.

Partly Cloudy

Intervals of clouds and sunshine. A stray shower or thunderstorm is possible. High 67F. Winds SW at 10 to 20 mph.

Chance of Rain

Overcast with rain showers at times. High 62F. Winds WSW at 10 to 20 mph. Chance of rain 50%.