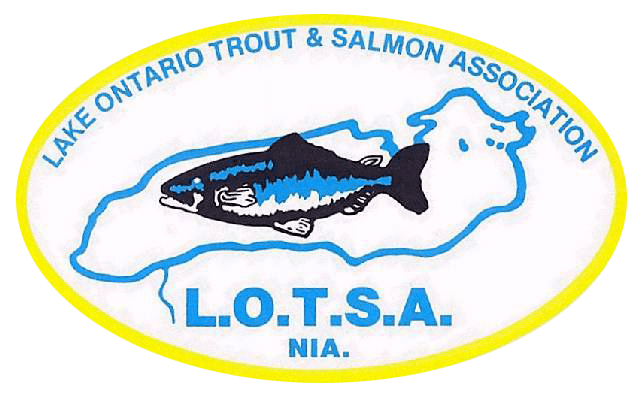 Lake Ontario Trout & Salmon Association (LOTSA)
LOTSA is a Not-For-Profit group of mainly weekend recreational fishermen who are dedicated to the enhancement and promotion of the Lake Ontario Sport-Fishery. LOTSA places a heavy emphasis on Education including recruiting new Anglers to the Lake Ontario Fishery and providing continual Education opportunities for the experienced Anglers.
LOTSA meetings are held on the 2nd Thursday of certain months (see events below) at 7:00 p.m. at the North Amherst Fire Company, 2200 Tonawanda Creek Rd, Amherst, NY 14228 and usually feature an informational seminar on a particular topic relating to the Lake Ontario fishery. Each meeting also features a sharing of information on the current fishing conditions.  Get Directions >>
Latest Club News & Happenings
LOTSA End of Year Meeting 12/14/23
On Thursday December 14th at 7pm, the Lake Ontario Trout & Salmon Association (LOTSA) will be having our annual end of year meeting. Special guests for this meeting will be Steve Hurst, DECs Chief of the Bureau of Fisheries and Christopher Legard, Lake Ontario Unit Leader and Aquatic Biologist. One of the ways that the DEC is managing the Lake Ontario Trout and Salmon Fishery is by participating in meetings where a significant number of Lake Ontario anglers will be in attendance. They want to hear directly from those anglers who heavily use the Fishery and their input about the 2023 season along with answering any questions they might have. This is the only meeting with the DEC on the west end of the lake this year.
Some of the topics they will be covering include,
1. 2023 Lake Ontario creel survey results
2.Age structure and weight of Chinook Salmon
3.2023 prey fish survey results
4.Status of sea lamprey control
We highly encourage those anglers who are interested in the constant improvement of the fishery to attend and provide their input. Pizza and drinks will be available starting at 6:30pm compliments of LOTSA.
Hope to see everyone there as it should be a very informative meeting to end the year out.
Article written by John Suttell LOTSA
LOTSA is a group of mainly weekend recreational fishermen who are dedicated to the enhancement of the Lake Ontario Sport-Fishery including the pen rearing project at Olcott. Each meeting also features a sharing of information the current fishing conditions. So come join us and become more successful at fishing Lake Ontario!
The meeting will be held at the new location for our LOTSA meetings, The North Amherst Fire Company, 2200 Tonawanda Creek Rd. Amherst, N.Y. The Seminar is open to the public and free to attend. See WWW.LOTSA1.ORG for any questions.
LOTSA 2024 Salmon School
Attention Great Lakes Salmon Fishermen! The Lake Ontario Trout & Salmon Association (LOTSA) is proud to (once again) host its well-known in-depth Salmon School on Saturday, February 17, 2024. This highly acclaimed school, now in its 14th year, has become the premier Salmon School anywhere in the Great Lakes. What started out as a local event now attracts many diehard salmon anglers from around the Great Lakes and Canada attending. The School, coupled with all the trout and salmon exhibitors at the Greater Niagara Fishing Expo (February 15 – 18), makes this a "must attend" winter event for many.
Each year the intense class is enhanced based upon the input from those who attended the previous School. Based upon that input, Capt. Pete Alex (Lake Ontario west end and north shore), Capt. Rob Westcott (Lake Ontario central & west ends) and Capt. Casey Prisco (Lake Ontario east & west ends) have been selected to be the main instructors for the 2024 School. The School again will be targeted for the experienced Lake Ontario Salmon Fisherman as Pete, Rob and Casey will do a "deep dive" into the specific tools and techniques they utilize to make them consistently successful chasing Kings. The focus will be on the 3 main (open lake) Lake Ontario Salmon fishing periods (May, July, and August) and dive into the more technical aspects for each of these months relating to location, the "right" water, deep-water King tactics, locating and catching offshore Kings and on fishing "meat" among many other tactics. This instruction will include some detailed video footage which should help the learning process.
SALMON SCHOOL DETAILS
The overall School consists of seven hours of detailed Salmon catching instruction on Saturday along with an additional 2.5 hours on Friday and one hour on Sunday. The registration price of $100 includes free admission to the Greater Niagara Fishing Expo for all 4 days, your 2024 LOTSA Membership, a hot buffet lunch (or alternative for dietary needs) on Saturday with beverages available throughout the class and a "goodie" bag consisting of the "go to" baits of the instructors. The School begins on Friday Evening (5:30 to 8:00 p.m.) with an opening presentation by the Instructors presenting their 2023 season in a "Social environment" that provides attendees the opportunity to meet and interact with the instructors in a casual setting that includes free drinks and food. This is also a great opportunity to meet your fellow attendees and build up your all-important network of fellow anglers you can communicate with both before and during your outings on the Lake. On Saturday, check in begins at 7 a.m. with the instruction starting at 8 a.m. and completing at 4 p.m. The School wraps up on Sunday morning (8:30 to 9:30 a.m.) with an hour-long open Q&A session with the Instructors covering any remaining questions that you may have.
The class (and Expo) is held at the Niagara Falls Convention Center in a "state of the art" conference room with a large screen, stage, good seating with tables and a good sound system that all make for a comfortable venue throughout the day for everyone attending. Given the quality of what you will be taught, the hot buffet lunch, the Friday night "Social", Door Prizes, "goodie bag" and free pass to the show for 4 days, it is a terrific value and a great way to start your 2024 season.
The Salmon School is not meant for novices of the Lake Ontario fishery. It is a "hard core" salmon class targeted toward providing the "experienced weekend warrior" / Tournament Angler with additional insights and details to improve their catch in the limited time they have on the water. As the Great Lakes continue to change and become a much more challenging fishery, knowledge is often the difference between having a couple of bites or having steady bites throughout the day.
This is a custom class built from the input from the attendees on what is most important to them to cover. It is not an "off the shelf" class for the masses. Each attendee will have the opportunity to submit their most important questions/topics that they want covered in the class. The instructors will then use this input to customize the curriculum to cover these areas. This will allow the instructors to limit the questions during the School and make sure that they cover all of the details that they have prepared.
The instructors have a huge amount of on-the-water experience trolling for trout and salmon along with a proven tournament track record of high placement in the most prestigious tournaments over many years. They are a much-diversified set of instructors and will provide a class full of insights and details that no one single instructor would be able to provide. They are all skilled communicators and very well known for sharing their fishing knowledge and daily fishing trips with anglers to help them to be more successful fishing the lake. Each brings their own unique set of trolling skills, techniques, and knowledge to the class. Given the depth of the knowledge base of these instructors and their proven ability to educate anglers, we expect this school to be another high quality, comprehensive, in-depth, information-packed event that our attendees have come to expect year after year.
The School has sold out every year as many of the attendees come back year after year – which is the ultimate testimony to the value of attending the school.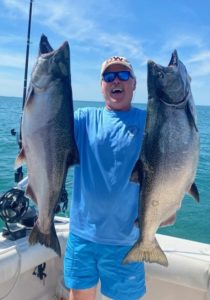 CAPTAIN PETE ALEX
Captain Pete has been a charter captain since 1988 and began chartering on Lake Ontario in 1990. His home Port is Wilson, NY but travels to various Ports on Lake Ontario to fish tournaments.
He loves to fish tournaments as well as entertain clients from all over the U.S. He has well over 100 top 10 finishes and numerous big fish and team tournament wins on both Lake Erie and Ontario.
He is a Pro-Staffer for several companies and loves to help educate anglers by doing seminars and posting educational videos on his YouTube site. He also believes we should never stop willing to learn new techniques or patterns as fish habits and Lakes evolve.
Two of the topics he's going to bring to the table will be his "grind bite" tactics and what he does during that tough bite period and his "10" commandments of fishing that everyone should try to adhere to. He may also give you a sneak preview of a new product that is unique and new to the trolling industry. He field tested this in 2022 and will be fine tuning it in 2023. He hopes to share those results with you.
Pete's looking forward to this year's school and feels it will be both entertaining and very educational. You won't want to miss this year's event in 2024.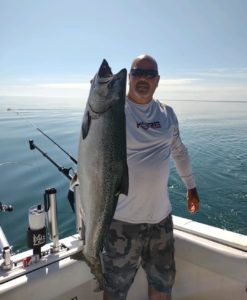 CAPTAIN ROB WESTCOTT
Captain Rob Westcott is the owner and operator of Legacy Sportfishing. Captain Rob considers the port of Sandy Creek home but spends at least some time in every west end port throughout the year chasing the bite and fishing the tournament scene. Captain Rob grew up along the shores of Lake Ontario and was introduced to the Lake Ontario fishery at a very young age by his father and has been fishing it ever since. Captain Rob is a Pro-Staffer for Okuma, Blood Run Tackle, Dreamweaver Lures, Bay Rat Lures, Fish Hawk Electronics, Familiar Bite, And Pro-Cure.
Captain Rob loves the spirit of competition and has been very active in the Lake Ontario tournament scene for about fifteen years. With numerous wins and tons of top tens, the captain has enjoyed success with not only Team Legacy but with multiple tournament teams on Lake Ontario. Proven tournament tactics and "big fish" strategy will certainly be something that is shared at this year's salmon school.
Captain Rob has been told he has on the water OCD. He will share his belief that adhering to often overlooked fundamentals and how the "little things" will simply put more fish in the boat. At this year's Salmon school, a big topic will be the seasonal progression of the salmon bite, and he will share the tactics that will put Kings in the boat throughout the season.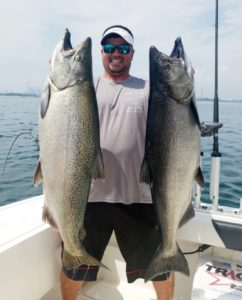 CAPTAIN CASEY PRISCO
I have been fishing Lake Ontario since the age of 4. Over the years I've seen many of different ways to target king salmon come and go. One of my favorite ways is running cut bait. On an average I will use around 2500 pieces of herring a season. I believe that it's the absolute best way to target salmon. During this salmon school I will show you how, where, why and when I choose to run it. After leaving the school I know your meat game will be better. I follow the Salmon bite as it progresses down the lake. From Wilson Ny in May to Pulaski Ny in Sept. While many of the same tactics will work from end to end of the lake there are a few different things that change. I will help you become a better fisherman from one end of the lake to the other. I look forward to seeing you all and helping you put more fish in the cooler. Cya on the water Capt Casey!
Register or Renew your LOTSA membership as well as view the current LOTSA Membership list.
The well-known, in-depth salmon school of detailed instruction taught by top captains.
A fun tournament with simple rules that encourages family participation & promotion of the fishery.
Free tournament for LOTSA Members only. 3 Fish tournament – Salmon Only! NEW- BIG FISH FRIDAY! $150 payout to largest salmon weighed in!
"Fishing is much more than fish. It is the great occasion when we may return to the fine simplicity of our forefathers... "
______
December 3rd 2023, Sunday
Come on, Join Us!
We are always looking for new members. Young, old, amateur or pro – consider joining us!