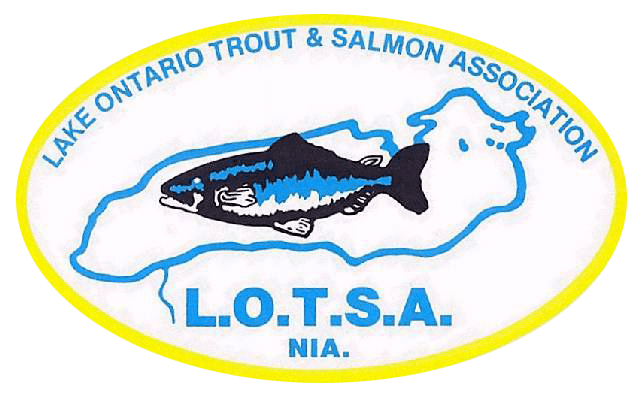 Lake Ontario Trout & Salmon Association (LOTSA)
LOTSA is a Not-For-Profit group of mainly weekend recreational fishermen who are dedicated to the enhancement and promotion of the Lake Ontario Sport-Fishery. LOTSA places a heavy emphasis on Education including recruiting new Anglers to the Lake Ontario Fishery and providing continual Education opportunities for the experienced Anglers.
LOTSA meetings are held on the 2nd Thursday of certain months (see events below) at 7:00 p.m. at the North Amherst Fire Company, 2200 Tonawanda Creek Rd, Amherst, NY 14228 and usually feature an informational seminar on a particular topic relating to the Lake Ontario fishery. Each meeting also features a sharing of information on the current fishing conditions.  Get Directions >>
Latest Club News & Happenings
SEMINARS &  GENERAL MEMBERSHIP MEETINGS:
The dates of our meetings are listed below. They begin at 7pm at the North Amherst Fire Company, 2200 Tonawanda Creek Rd, Amherst, NY 14228. Please note May 6th meeting is in Wilson at Bootleggers Cove Marina.
SEMINAR SERIES:
Thursday April 8  – Canceled due to COVID
 Thursday May 6  – "At the Dock' talking Kings   With Captain Mike Johannes  
Thursday June 3 – July Salmon Tournament Techniques / Roundtable of LOTSA Captains    
Thursday July 8 – Fall LOC Derby Winning Techniques With Captain Chris Petrucci
Thursday September 9 – Fall Stream Salmon Techniques With Scott Rohe and Wade Rowcliffe
Thursday December 9  – Annual Christmas Party
18th Annual LOTSA King Salmon Tournaments & Free Picnic July 17
11th Annual Curt Meddaugh Memorial Free Tournament Friday July 16

LOTSA "Tournaments within a Tournament, free for LOTSA Members" 
Spring LOC Derby            $1000 Cash Largest Salmon           5/7 – 5/16
Summer LOC Derby        $750   Cash Largest Salmon           6/25 – 7/25
Fish Odyssey                       $700   Cash Largest Salmon           8/21 – 8/29
Fall LOC Derby Wk #1   $500   Cash Largest Salmon           8/20 – 8/28
Fall LOC Derby Wk #2   $500   Cash Largest Salmon           8/29 – 9/06
Salmon Pen Rearing Program:
April at Olcott (Newfane Marina). See LOTSA1.ORG for the specifics.
LOTSA Fall Loc Derby Winner:
For several years, LOTSA has been offering additional monies to the LOTSA member that caught the biggest fish in the LOC, Fish Odyssey and NY Summer Classic, this year was no exception. However, this year was a little different, the winners of the prize categories over the two fall tournaments and the NY Summer Classic were all won on the same boat. Chris Petrucci of California PA fished almost every day of the LOC Fall Derby along with fellow LOTSA members Jeff Smith, Nick Zayak, Paige Petrucci and Al Bennett on Petrucci's boat the "Slippery Frog" out of Bootleggers Cove Marina in Wilson NY. The team was able to claim 15 category wins between the LOC Derby, the Fish Odyssey and the New York Summer
Classic. Their "claim" included:
Lake Ontario Counties Derby– Salmon division 16 th and 19 th place, Brown Trout division 4 th place, Salmon Top Fish of Day twice, Brown Trout Top Fish of Day once, LOTSA Big Fish
Fish Odyssey– Salmon division 2 nd and 3 rd , Brown Trout division 1 st place, 2x Big Fish of Day, LOTSA Big Fish
NYS SummerClassic– Salmon division, LOTSA Big Fish
Petrucci and his team concentrated on 100 feet of water give or take a few between the Niagara Bar and Wilson NY, He notes that the rougher the water the better the bite for the big salmon. "The best bite the first week of the derby seemed to be between 10am and 2pm, probably because of the full moon. Things were pretty slow before 10 but the fish would show up at 10 faithfully and it was on from then" Chris said. Three fish stood out for them, the first week it was a 27.14lb salmon that hit a Mt. Dew Pro Troll flasher pulling a meat rig with twinkies. Also, in the first week was a bonus 15.01lb brown trout that hit a DW U/V 2 face spoon on his deep downrigger. Petrucci notes that speed was crucial 2.2 to 2.3mph on his Fish Hawk X4D but water temp didn't seem to matter, when the fish were there they wanted to eat. The second week of the derby brought more challenges as the weather pattern changed and the fish moved a little East. The waters between Wilson and Olcott held the fish
and produced a 28.01lb king that brought more category wins. This fish took a 10" 2 face Spin Dr. and a Disco twinkie and meat rig on 400 copper. Once again rough water played a role and trolling with the waves seemed to produce the most bites.
Chris has agreed to speak at one of the upcoming 2021 club meetings, so stay tuned! Congratulations to Chris and his team, we wish them well in the coming years.
Register or Renew your LOTSA membership as well as view the current LOTSA Membership list.
The well-known, in-depth salmon school of detailed instruction taught by top captains.
A fun tournament with simple rules that encourages family participation & promotion of the fishery.
Free tournament for LOTSA Members only. 1 Fish tournament – King Salmon Only!
"Fishing is much more than fish. It is the great occasion when we may return to the fine simplicity of our forefathers... "
______
April 11th 2021, Sunday
Come on, Join Us!
We are always looking for new members. Young, old, amateur or pro – consider joining us!