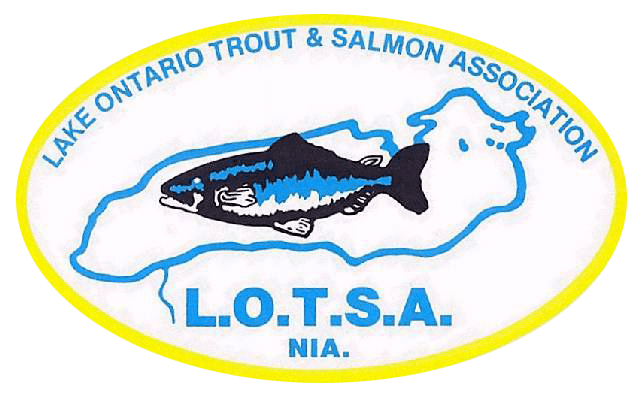 Lake Ontario Trout & Salmon Association (LOTSA)
LOTSA is a Not-For-Profit group of mainly weekend recreational fishermen who are dedicated to the enhancement and promotion of the Lake Ontario Sport-Fishery. LOTSA places a heavy emphasis on Education including recruiting new Anglers to the Lake Ontario Fishery and providing continual Education opportunities for the experienced Anglers.
LOTSA meetings are held on the 2nd Thursday of certain months (see events below) at 7:00 p.m. at the North Amherst Fire Company, 2200 Tonawanda Creek Rd, Amherst, NY 14228 and usually feature an informational seminar on a particular topic relating to the Lake Ontario fishery. Each meeting also features a sharing of information on the current fishing conditions.  Get Directions >>
Latest Club News & Happenings
SEMINARS &  GENERAL MEMBERSHIP MEETINGS:
The dates of our meetings are listed below. They begin at 7pm at the North Amherst Fire Company, 2200 Tonawanda Creek Rd, Amherst, NY 14228. Please note May 6th meeting is in Wilson at Bootleggers Cove Marina.
SEMINAR SERIES:
Thursday April 8  – Canceled due to COVID
 Thursday May 6  – "At the Dock' talking Kings   With Captain Mike Johannes  
Thursday June 3 – July Salmon Tournament Techniques / Roundtable of LOTSA Captains    
Thursday July 8 – Fall LOC Derby Winning Techniques With Captain Chris Petrucci
Thursday September 9 – Fall Stream Salmon Techniques With Scott Rohe and Wade Rowcliffe
Thursday December 9  – Annual Christmas Party
18th Annual LOTSA King Salmon Tournaments & Free Picnic July 17
11th Annual Curt Meddaugh Memorial Free Tournament Friday July 16

LOTSA "Tournaments within a Tournament, free for LOTSA Members" 
Spring LOC Derby            $1000 Cash Largest Salmon           5/7 – 5/16
Summer LOC Derby        $750   Cash Largest Salmon           6/25 – 7/25
Fish Odyssey                       $700   Cash Largest Salmon           8/21 – 8/29
Fall LOC Derby Wk #1   $500   Cash Largest Salmon           8/20 – 8/28
Fall LOC Derby Wk #2   $500   Cash Largest Salmon           8/29 – 9/06
Salmon Pen Rearing Program:
April at Olcott (Newfane Marina). See LOTSA1.ORG for the specifics.
2021 LOTSA Pen Rearing Wrap Up

This year LOTSA's Pen Rearing Project expanded again.   For 21 days we held 111,000 Chinook salmon and 17,000 Steelhead in nine fish pens located at the Town of Newfane Marina in Olcott NY.  The pens were assembled on March 27th LOTSA members and a few volunteers from Lake Erie Chapter of Fly Fishers.  The fish were received on April 6th and moved in pens to their temporary homes on "A" dock in Eighteen Mile Creek.  At receipt, the Chinook salmon weighed 126 fish/lb and the Steelhead were 24 fish/lb.  During their stay, they were fed continuously via belt feeders that were loaded every morning by Dennis Stabler, Capt. Vince Pierleoni and Marina Director Scott Scheffler.  The warmer water temperatures and continuous feeding led to impressive growth during their stay and some of the best product that we have seen.  On April 25th the Steelhead and April 28th the Chinook salmon were released into the harbor just before dusk to minimize risk of predation from birds and other fish.  At release the Chinook averaged 67.4 fish per pound and the Steelhead averaged 15.97 fish per pound.  NYDEC had "Hazers" working in the harbor for 2 days after the fish release to deter predation from birds as well.
This project would not be possible without an incredible amount of help from volunteers and generosity from local businesses.  I would like to thank Scott Scheffler and The Town of Newfane for support throughout the project, also The Boat Doctor/Tackle Barn and The East Side Market in Olcott.  Please support these businesses and show them your appreciation too.
Register or Renew your LOTSA membership as well as view the current LOTSA Membership list.
The well-known, in-depth salmon school of detailed instruction taught by top captains.
A fun tournament with simple rules that encourages family participation & promotion of the fishery.
Free tournament for LOTSA Members only. 1 Fish tournament – King Salmon Only!
"Fishing is much more than fish. It is the great occasion when we may return to the fine simplicity of our forefathers... "
______
May 9th 2021, Sunday
Come on, Join Us!
We are always looking for new members. Young, old, amateur or pro – consider joining us!