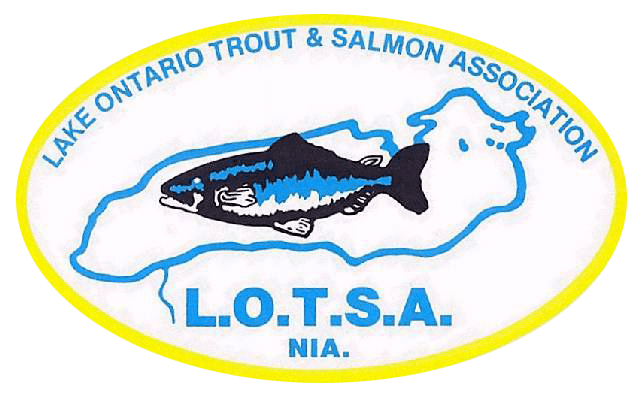 Lake Ontario Trout & Salmon Association (LOTSA)
LOTSA is a Not-For-Profit group of mainly weekend recreational fishermen who are dedicated to the enhancement and promotion of the Lake Ontario Sport-Fishery. LOTSA places a heavy emphasis on Education including recruiting new Anglers to the Lake Ontario Fishery and providing continual Education opportunities for the experienced Anglers.
LOTSA meetings are held on the 2nd Thursday of certain months (see events below) at 7:00 p.m. at the North Amherst Fire Company, 2200 Tonawanda Creek Rd, Amherst, NY 14228 and usually feature an informational seminar on a particular topic relating to the Lake Ontario fishery. Each meeting also features a sharing of information on the current fishing conditions.  Get Directions >>
Latest Club News & Happenings
CANCELLED – Refunds Being Issued

LOTSA 2022 Salmon School
Attention Great Lakes Salmon Fishermen! The Lake Ontario Trout & Salmon Association (LOTSA) is proud to (once again) host its well-known in-depth Salmon School on Saturday, February 19, 2022. This highly acclaimed school, now in its 13th year, has become the premier Salmon School anywhere in the Great Lakes. What started out as a local event now attracts many diehard salmon anglers from around the Great Lakes and Canada attending. The School, coupled with all the trout and salmon exhibitors at the Greater Niagara Fishing Expo (February 17 – 20), makes this a "must attend" winter event for many.
Each year the intense class is enhanced based upon the input from those who attended the previous School. Based upon that input, Capt. Vince Pierleoni (Lake Ontario west end and north shore), Capt. Russell Gahagan (Lake Michigan) and Capt. Brian Garrett (Lake Ontario east end) have been selected to be the main instructors for the 2022 School. The School again will be targeted for the experienced Lake Ontario Salmon Fisherman as Vince, Russell and Brian will do a "deep dive" into the specific tools and techniques they utilize to make them consistently successful chasing Kings. The focus will be on the 3 main (open lake) Lake Ontario Salmon fishing periods (May, July, and August) and dive into the more technical aspects for each of these months relating to location, the "right" water, deep-water King tactics, locating and catching offshore Kings and on fishing "meat" among many other tactics. This instruction will include some detailed video footage which should help the learning process.
The overall School consists of seven hours of detailed Salmon catching instruction. The registration price of $85 includes free admission to the Greater Niagara Fishing and Outdoor Expo for all 4 days, your 2022 LOTSA Membership, a hot buffet lunch (or alternative for dietary needs) on Saturday with beverages available throughout the class and a "goodie" bag consisting of the "go to" baits of the instructors. The School begins on Friday Evening (6 to 8:30 p.m.) with an opening presentation by the Instructors and a "Social" that provides attendees the opportunity to meet and interact with the instructors in a casual setting that includes free drinks and light food. This is also a great opportunity to meet your fellow attendees and build up your all-important network of fellow anglers you can communicate with both before and during your outings on the Lake. On Saturday, check in begins at 7 a.m. with the instruction starting at 8 a.m. and completing at 4 p.m. The School wraps up on Sunday morning (8:30 to 9:30 a.m.) with an hour-long open Q&A session with the Instructors covering any remaining questions that you may have.
The class (and Expo) is held at the Conference and Event Center Niagara Falls in a "state of the art" conference room with a large screen, stage, good seating with tables and a good sound system that all make for a comfortable venue throughout the day for everyone attending. Given the quality of what you will be taught, the hot buffet lunch, the Friday night "Social", Door Prizes, "goodie bag" and free pass to the show for 4 days, it is a terrific value and a great way to start your 2022 season.
The Salmon School is not meant for novices of the Lake Ontario fishery. It is a "hard core" salmon class targeted toward providing the "experienced weekend warrior" / Tournament Angler with additional insights and details to improve their catch in the limited time they have on the water. As the Great Lakes continue to change and become a much more challenging fishery, knowledge is often the difference between having a couple of bites or having steady bites throughout the day.
This is a custom class built from the input from the attendees on what is most important to them to cover. It is not an "off the shelf" class for the masses. Each attendee will have the opportunity to submit their most important questions/topics that they want covered in the class. The instructors will then use this input to customize the curriculum to cover these particular areas. This will allow the instructors to limit the questions during the School and make sure that they cover all of the details that they have prepared.
The instructors have a huge amount of on-the-water experience trolling for trout and salmon along with a proven tournament track record of high placement in the most prestigious tournaments over many years. They are a much diversified set of instructors and will provide a class full of insights and details that no one single instructor would be able to provide. They are all skilled communicators and very well known for sharing their fishing knowledge and daily fishing trips with anglers to help them to be more successful fishing the lake. Each brings their own unique set of trolling skills, techniques and knowledge to the class. Given the depth of the knowledge base of these instructors and their proven ability to educate anglers, we expect this school to be another high quality, comprehensive, in-depth, information-packed event that our attendees have come to expect year after year.
The School sells out every year as many of the attendees come back year after year – which is the ultimate testimony to the value of attending the school. Early signups are encouraged to give the instructors enough time to build the curriculum for the desired topics.
SEMINARS &  GENERAL MEMBERSHIP MEETINGS:
The dates of our meetings are listed below. They begin at 7pm at the North Amherst Fire Company, 2200 Tonawanda Creek Rd, Amherst, NY 14228. Please note May 6th meeting is in Wilson at Bootleggers Cove Marina.
SEMINAR SERIES:
Thursday April 8  – Canceled due to COVID
 Thursday May 6  – "At the Dock' talking Kings   With Captain Mike Johannes  
Thursday June 3 – July Salmon Tournament Techniques / Roundtable of LOTSA Captains    
Thursday July 8 – Fall LOC Derby Winning Techniques With Captain Chris Petrucci
Thursday September 9 – Fall Stream Salmon Techniques With Scott Rohe and Wade Rowcliffe
Thursday December 9  – Annual Christmas Party
18th Annual LOTSA King Salmon Tournaments & Free Picnic July 17
11th Annual Curt Meddaugh Memorial Free Tournament Friday July 16

LOTSA "Tournaments within a Tournament, free for LOTSA Members" 
Spring LOC Derby            $1000 Cash Largest Salmon           5/7 – 5/16
Summer LOC Derby        $750   Cash Largest Salmon           6/25 – 7/25
Fish Odyssey                       $700   Cash Largest Salmon           8/21 – 8/29
Fall LOC Derby Wk #1   $500   Cash Largest Salmon           8/20 – 8/28
Fall LOC Derby Wk #2   $500   Cash Largest Salmon           8/29 – 9/06
Register or Renew your LOTSA membership as well as view the current LOTSA Membership list.
The well-known, in-depth salmon school of detailed instruction taught by top captains.
A fun tournament with simple rules that encourages family participation & promotion of the fishery.
Free tournament for LOTSA Members only. 3 Fish tournament – Salmon Only! NEW- BIG FISH FRIDAY! $150 payout to largest salmon weighed in!
"Fishing is much more than fish. It is the great occasion when we may return to the fine simplicity of our forefathers... "
______
January 18th 2022, Tuesday
Come on, Join Us!
We are always looking for new members. Young, old, amateur or pro – consider joining us!