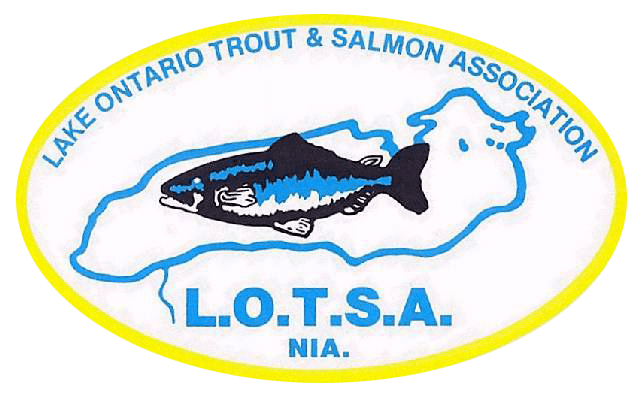 Lake Ontario Trout & Salmon Association (LOTSA)
LOTSA is a Not-For-Profit group of mainly weekend recreational fishermen who are dedicated to the enhancement and promotion of the Lake Ontario Sport-Fishery. LOTSA places a heavy emphasis on Education including recruiting new Anglers to the Lake Ontario Fishery and providing continual Education opportunities for the experienced Anglers.
LOTSA meetings are held on the 2nd Thursday of certain months (see events below) at 7:00 p.m. at the Cornell Cooperative Extension, 4487 Lake Ave. (Route 78, two miles north of Lockport), Lockport, NY and usually feature an informational seminar on a particular topic relating to the Lake Ontario fishery. Each meeting also features a sharing of information on the current fishing conditions.  Get Directions >>
Latest Club News & Happenings
The LOTSA Officers and Board of Directors would like to Thank everyone who helped to make the Greater Niagara Fishing & Outdoor Expo successful again this year. Despite the worse weather we have had by far since 14 years ago when we started the show in the 4H building in Lockport, the Exhibitors all made it to the show and many hardy fishermen braved the elements to attend and enjoy all that it had to offer.
We would thank the following for making this a success:
1. Pete Alex, Andy Bliss and Matt Yablonsky for continuing the tradition of delivering a high quality Salmon School to a sold out crowd of 170 students. Those who attended are looking forward to tweaking their 2019 Salmon program with what they learned from Pete, Andy and Matt.
2. The many LOTSA volunteers that helped with the LOTSA Booth on the floor, delivered some seminars, worked with the Salmon School instructors to build the Salmon School and take registrations, helped out at the Meet & Greet & Friday evening along with everything from check in to cleanup for the School on Saturday.  Just like they do for Pen Rearing, these Volunteers are one of the reasons we all are able to enjoy the Lake Ontario King Fishery!
3. The Conference & Event Center for managing the operations of the whole show, providing attendees with the opportunity to attend a huge amount of Free Fishing Education, hosting the Salmon School Meet & Greet, providing attendees with a "state of the art" room to deliver the Salmon School in along with and excellent lunch, advertising the Salmon School and booking most of the top Lake Ontario related Trout & Salmon manufacturers as Exhibitors in the Event Center.
4. The Lake Ontario Trout & Salmon oriented manufacturers who support the Lake Ontario fishing community by Exhibiting at the show, talking with us about their latest gear, delivering seminars and offering us show pricing either directly or thru their retail outlets at who are also Exhibitors at the Show.
5. This year's Salmon School Product Sponsors which contributed to the student bags and associated raffles (including raising funds for Pen Rearing) . A big shout out to these folks. Some are new and some have been very loyal sponsors of the school year after year. We cannot thank them enough.
Dreamweaver Lures*
FishUSA*
A-Tom-Mik Flies and Meat Rigs*
Torpedo Wire*
Great lakes Angler*
Pro Troll*
Michigan Stinger*
Slide Diver*
Addya Hooks
Pautzke
Atlas Mikes Bait Company
Yakima
Silver Streak
Fish Thief Snubbers
Vision Quest Sport Fishing
SEMINARS &  GENERAL MEMBERSHIP MEETINGS:
The dates of our meetings are listed below. They begin at 7pm at the North Amherst Fire Company, 2200 Tonawanda Creek Rd, Amherst, NY 14228. Please note May 9th meeting is in Wilson at Bootleggers Cove Marina.
SEMINAR SERIES:
Thursday April 11 – Early Spring King Techniques with Captain Damian Kuzmin
Thursday May 9 – "At the Dock' talking Kings with Captain Bob Stevens at Wilson
Thursday June 13 – June Transition Fishing Techniques with Captain Paul Czarnecki
Thursday July 11-  Western Basin Summertime Kings with Captain Larry Wills
Thursday September 12 – Season Wrap Up Roundtable with multiple LOTSA Captains
Thursday December 12 – Annual Christmas Party
16th Annual LOTSA King Salmon Tournaments & Free Picnic July 20
9th Annual Curt Meddaugh Memorial Free Tournament Friday July 19

LOTSA "Tournaments within a Tournament, free for LOTSA Members" 
Spring LOC Derby            $1000 Cash Largest Salmon           5/10 – 5/19
Summer LOC Derby        $500   Cash Largest Salmon           6/29 – 7/28          
Fish Odyssey                    $700   Cash Largest Salmon           8/17 – 8/25
Fall LOC Derby                 $500   Cash Largest Salmon           8/16 – 9/02
Salmon Pen Rearing Program:
April at Olcott (Newfane Marina).
Register or Renew your LOTSA membership as well as view the current LOTSA Membership list.
The well-known, in-depth salmon school of detailed instruction taught by top captains.
A fun tournament with simple rules that encourages family participation & promotion of the fishery.
Tournament to catch and weight three largest fish; the combined weight determining the winner.
"Fishing is much more than fish. It is the great occasion when we may return to the fine simplicity of our forefathers... "
Local Weather
Lockport, NY
Overcast

Cloudy. A few flurries or snow showers possible. High 28F. Winds ENE at 10 to 20 mph.

Snow Showers

Cloudy with snow showers mainly during the morning. High 22F. Winds N at 10 to 15 mph. Chance of snow 60%. Snow accumulations less than one inch.

Overcast

Cloudy. High 24F. Winds W at 5 to 10 mph.

Snow Showers

Cloudy skies with afternoon snow showers. High 32F. Winds ESE at 10 to 15 mph. Chance of snow 50%. Snow accumulations less than one inch.

Overcast

Cloudy. Temps nearly steady in the mid 30s. Winds W at 10 to 20 mph.

Partly Cloudy

Partly cloudy skies. High 36F. Winds W at 5 to 10 mph.

Mostly Cloudy

Partly cloudy skies during the morning hours will become overcast in the afternoon. High 43F. Winds ESE at 5 to 10 mph.
Come on, Join Us!
We are always looking for new members. Young, old, amateur or pro – consider joining us!